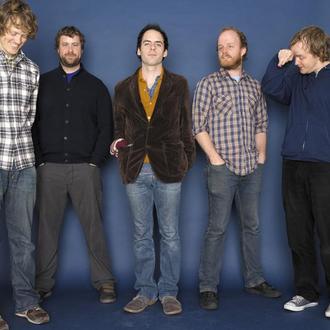 Clap Your Hands Say Yeah






Clap Your Hands Say Yeah

est un groupe d'indie rock basé à Brooklyn, comprenant Alec Ounsworth, auteur compositeur originaire de Philadelphie, Lee Sargent, Robbie Guertin, Tyler Sargent, et Sean Greenhalgh tous originaires de New York. Leur premier album, Clap Your Hands Say Yeah, fut

auto-produit et auto-diffusé en 2005

, recevant l'attention de nombreux

podcasts

et reçu rapidement une mention favorable de Pitchfork Media. Il fut à l'origine, par le

biais d'internet,

de l'un des buzz les plus important de l'année et fut sacré directement « Meilleure découverte du moment ».

L'album, avant de passer sous un label plus puissant, était aux dires de CYHSY, initialement uniquement destiné à obtenir des concerts, une diffusion de masse étant à l'époque impossible, une seule personne se chargeant de tout le processus de pressage et de diffusion.

S'ensuivit une demande massive pour l'album qui dut être repressé en urgence, le rythme de production initial étant beaucoup trop lent. Le groupe qui commença à se produire en jouant régulièrement à Pianos à New York, reçut de plus en plus de propositions de distribution (CYHSY avait alors vendu environ 45000 copies de leur album homonyme).

David Bowie ainsi que David Byrne ont récemment été aperçus lors de concerts du groupe, attirant ainsi le regard de la presse. Plus récemment, ils reçurent un prix de Rolling Stone en tant que 'Hot New Band' pour 2005. Le 3 octobre 2005 Ils signèrent auprès de

Wichita Records

aux USA.

Le groupe n'ayant toujours pas de nom lors de leur tout premier concert, s'est alors laissé inspirer par un graffiti inscrit sur un mur de Brooklyn qui disait "

clap your hands and say yeah

".

Pour les influences on pourra citer

Tom Waits

ou encore les

Talking Heads

, mais la différence se situant dans la voix nasillarde et accrochante du chanteur Alec Ounsworth.

Le chanteur Alec Ounsworth a un projet parallèle (

Flashy Python and the Body Snatchers

).




Wikiii.